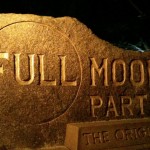 Original Full Moon Party at Haad Rin sunrise beach(Fullmoon beach). The infamous party of Koh Phangan which people around the world come to join this party once a month. Enjoy the music by an international Dj. and buckets drinks, dancing all night long until sunrise. You will never forget this experience. You can reserve a room for the next full moon party with us to make sure that you have accommodation for that period. Click Book a room here.
Please see these Full moon party schedule or Full moon party Dates to make a decision.
Full Moon party calendar 2019


Sunday 20th January
Wednesday 20th February

Wednesday 20th March

Friday 19th April

Sunday 19th May

Monday 17th June

Thursday 18th July

Thursday 15th August

Friday 13th September

Monday 14th October

Monday 11th November

Wednesday 11th December
Full Moon party calendar 2020

Thursday 9th January

Sunday 9th February

Sunday 8th March

Tuesday 7th April

Thursday 7th May

Friday 5th June

Monday 6th July
Our hotel is situated in Haad Rin with just 5-10 minutes walking distance to the world famous Full Moon Party. You can drink as much as you want and come back to the hotel. We also have security guard during the Full moon party night to make sure that our customers are safe. If you already see Full moon party dates, you can book your accommodation with us. We guarantee best price if you book directly with hotel website which you can get many promotions only for hotel website customer. So, DON"T MISS THIS CHANCE AND GET IT WHILE YOU CAN !
This is the time you will know that why we are so famous for more than ten years of services. We hope to see you guys on the next Full moon party dates.